Okay, some more sketchy crap.
Brainstorming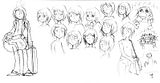 I ended up giving her straight-cut bangs instead of the hairclip, but the expressions stay more or less the same.
Creature doodlies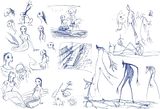 Initial inspiration came from the style of Scott Pilgrim, and I had totally wanted to use a video game-ish structure to it, but I think I've dropped that idea.
The poem
Instructions, by Neil Gaiman
sort of steered me in the direction I'm going - he's one of my favourite authors on the basis of his ability to write the fantastic and ordinary and blend them so flawlessly. That's a little what I'm striving for I suppose.
And while I was inspired by many of
Miyazaki
's works, it was the short animated piece 'Wolf Daddy' that had the voice that I was looking for.